Our Wedding Page
Rental Cars/Public Transportation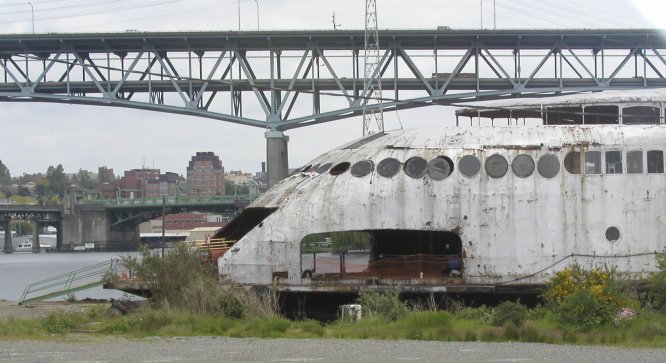 Seattle has a world-class ferry system, too!

Seattle is a fairly small city, by most standards, and parking can often be hard to come by, especially downtown. Fortunately, the public transportation here is extremely good, and the city can be easily navigated by bus or monorail. With that in mind, we have tried to coordinate our events so that everything can be accessed via public transportation. If you're only coming for a couple of days to see us, we think you will do fine without a rental car, and recommend that you consider this as an option.

However, if you've never been to the Northwest before, and are intending to spend a day or two sightseeing beyond the city's limits, a car is almost mandatory. Some of the islands, like Bainbridge or Vashon, can be reached by ferry, but once you're there, public transportation is sparse. More remote places like Snoqualmie Falls or Canada definitely require a car.
Bus Service
Bus rides to most areas around Seattle cost $1.25 each way ($1.50 during peak hours on weekdays). Rides within the downtown area (part of it, at least) are free at all times. Bus schedules can be found online at the King County Metro Online web site, at http://transit.metrokc.gov/. If you need help finding the stop nearest your hotel, or going somewhere else by bus, you can also call the Metro Rider Information System at 206-553-3000. If you call between 5am and midnight on weekdays, or between 10am and 6:30pm on weekends, you can press zero to talk to an individual who will help you locate bus stops and determine the best routes. (Unfortunately, the call center is closed on major holidays, so if you're planning to take a bus to the barbeque, you should call them the night before.)
When arriving at Sea-Tac Airport, you can take Route 174 bus into downtown (pick it up at Bay 1, all the way past the baggage claim areas). If you prefer to travel without having your bags tucked in between your legs the whole time, you can take the Gray Line Airport Express, departing every 30 minutes from doors 8 and 24 outside baggage claim (look for the signs). The cost is $8.50 per person one-way, or $14 for round-trip tickets, good for a week. For schedules and a list of hotel drop-off points, see their web page at http://www.graylineofseattle.com/airport.cfm. By way of comparison, a shuttle van like Shuttle Express costs about $20, and a taxi to downtown costs about $30-35.
If you're staying in the downtown area, you can most likely take the Gray Line shuttle, then cab, bus, or walk to your hotel if it doesn't stop where you're staying. Some hotels also have their own free airport shuttle service to downtown, so be sure to check with them when you make your reservation.
Copyright © 2003
Last updated: 14 May 2003 10:19:49