Our Wedding Page
Schedule
The schedule of events is as follows:
| | |
| --- | --- |
| Barbeque | Friday, July 4, starting at 11am |
| Fireworks | Friday, July 4, starting around 9:30pm |
| Main party | Saturday, July 5, starting at 7pm |
The Barbeque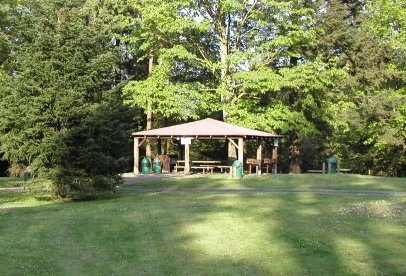 Picnic Shelter 5

Since many people are travelling great distances, and because it's a holiday weekend, we're putting together an informal barbeque the day before the main party, so people can relax and meet their fellow partygoers.

The barbeque will take place on Friday July 4, in Woodland Park. We'll be in picnic shelter 5, which is most easily reached from the Aurora Avenue entrance. Directions are provided later in this packet.

We'll start at 11:00 — rain or shine — and continue until around 3pm, or when all the important people have left. If you have children, please bring them! This may be our only chance to see them, and we want them to have fun this weekend, too. As a bonus, your kids may enjoy going to the Woodland Park Zoo, right next door, after they're done eating and playing.

There's no need to RSVP for the barbeque on your reply card. We'll be sending out an Evite in late May or early June to get a headcount, and an idea of food and beverage requirements. If you're not familiar with Evite, it's basically just a web-based reservation system. You'll receive an email from us, containing a link to the invitation page on the Evite web site. The invitation page will contain all the details, along with a listing of all other people invited, and their replies. To reply, just indicate if you're coming, answer a few questions about food and beverage preferences, and click "Post Your Reply". It's easy — and you don't even have to register for anything!

There's no need to bring any food or drink or anything like that, unless there's some special kind of animal you feel like cooking up for yourself. Just show up and have fun!
Copyright © 2003
Last updated: 14 May 2003 10:19:44