Our Wedding Page
Things To Do in Seattle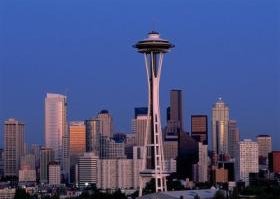 You've seen it, now visit it!

If you haven't been to the Emerald City before, we think you're in for a treat! And by "treat", rest assured we do not mean rain: the summers here are often quite beautiful, but then you never do know with this city.

We hope those of you venturing to the Pacific Northwest for the first time will take advantage of all there is to see and do. We recommend at least 1-2 extra days, if you can spare them. With more time, you can easily get out to the mountains, the Olympic peninsula, or even Vancouver or Victoria, which are reachable in just a couple of hours by high-speed catamaran.

We've listed here some of our most recommended places to visit. Many of these are good for young children, too. The items with an asterisk (*) are what we consider to be the "must-see" attractions — if nothing else, you should try to do these in between events while you're here. You may also want to consider getting a Seattle City Pass if you plan on visiting more than two of the attractions it covers — visit http://citypass.net for the complete list.

For additional sites not listed below (including various museums, galleries, and shopping centers), check out Seattle's main tourism web site at http://www.cityofseattle.net/, or the Lonely Planet Seattle book, which we found to be accurate, up-to-date, and very thorough.
Downtown (only one day)
Around the city (1-2 days)
Outside the city (3+ days)
For those experiencing Seattle for the first time, we feel the Seattle Underground Tour does deserve your time. It sounds cheesy, but it's actually interesting and enjoyable for all ages. However, we must warn you that these tours are extremely popular. Because reservations can usually not be made in advance, we recommend that you drop by the ticket booth (in Pioneer Square) early in the morning to purchase tickets for the tour of your choice, then go off to see other things until your tour time.
Copyright © 2003
Last updated: 26 May 2003 16:41:33